X-Stop – a Minimally Invasive Procedure for Spinal Stenosis
X-Stop is a minimally invasive spinal surgery procedure that often relieves pain secondary to lumbar spinal stenosis. An X-Stop device is actually a titanium implant, and it's implantation and the technique involved is referred to as an "Interspinous Process Decompression System." The implant is inserted into the spine through a posterior approach, between two spinous processes of two vertebrae which are affected by spinal stenosis (narrowing of the spinal canal). The X-Stop device distracts the vertebral segments and relieves the pressure on the nerve roots, which often relieves leg and back pain. The device was approved for use by the FDA in 2005, and since then more than 10,000 X-stop procedures have been performed in the United States. Second generation devices similar to the X-Stop also allow for a fusion between the adjacent vertebral segments using the same minimally invasive spinal surgery technique.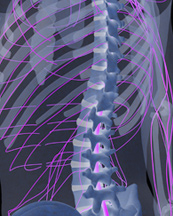 We provide surgical treatment for the excision and reconstruction of vertebral tumors and complex cervical trauma, depending on the type and severity of the condition. Our doctors are specially trained in treating all cervical spine conditions with care and precision.
Call 908-608-9619 today to make an appointment or contact us »
X-Stop – An implant that can be performed on an outpatient basis
For some patients with lumbar spinal stenosis, X-Stop may be a potential treatment option as an alternative to lumbar laminectomy. Patients for whom this spinal surgery might be appropriate include those over 50 years of age with stenosis confined to one or two levels of the spine, and who experience relief from symptoms when bending forward at the waist. The patient should have also undergone six months of non-surgical treatments without relief of symptoms. Non-surgical treatments may include exercises, physical therapy, epidural injections, and pain medications. This minimally invasive surgery can be performed under general anesthesia or local anesthesia. There is minimal removal of bone or soft tissue and X-Stop is typically performed in about one hour. It can be performed as an outpatient procedure, so patients can go home the same day that the surgery is performed. At New Jersey Spine Specialists, our orthopedic spine surgeons have experiencing performing this and other minimally invasive back surgery for patients from across northern New Jersey including towns like Livingston, Millburn and, Warren, and communities throughout Somerset and Union Counties. Contact us to schedule a consultation with our board certified physicians and learn if advanced minimally invasive surgery is an appropriate treatment option for you.